Hannah Dimon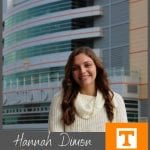 Hannah Dimon is a senior Communication Studies major with a minor in Tourism and Hospitality Management from Horseheads, New York.
"Upon my arrival at UTK, I was unsure what I wanted my future to entail after graduation. However, I quickly realized that Communication Studies was the right start. During my time as a CMST student, I have met some of the greatest professors and immersed myself in various courses that have all shaped me into who I am today.
Throughout my time at The University of Tennessee, I have been involved in Sigma Kappa Sorority, where I volunteered and raised money for Alzheimers research, CMST Club, where I traveled to D.C. and networked with alumni, and Honey Magazine, a newer organization on campus, where I am currently a member of the social media team. I also spent a semester as a research assistant for Dr. Woo and her workplace assimilation research study. It was my goal to become involved in multiple ways here on campus to grow my network and to open up as many opportunities as possible.
My plans for the future are still up in the air, however I have a strong interest in the field of social media. I am currently researching and applying for social media internships for the Spring 2021 semester.
I am excited and honored to be a CMST student here at the University of Tennessee, and I am looking forward to my future ahead!"