Communication Around the World
There's no better way to learn more about the professional world than actually going out into it. Whether it is domestic or abroad, students at the School of Communication Studies have multiple opportunities to get out and explore their career interests.
I think that being over there for as long as we were really gave us a good opportunity to learn about intercultural communication that I don't think you're able to learn if you're there for a short period of time. Being there in the city and traveling in the city, and going to class, really makes you feel like you're part of the culture and not just a visitor."
Anna McClure
graduate student at the School of Communication Studies who went on the Dubin trip in 2022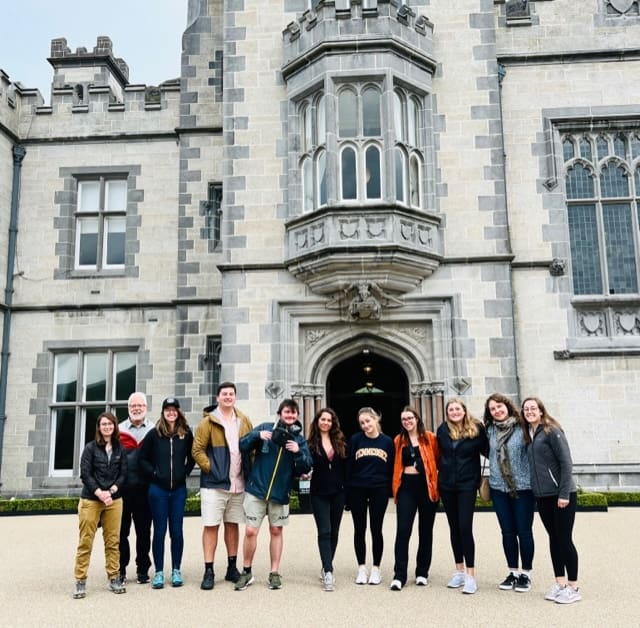 Communication Studies Programs Abroad
Our programs abroad immerse students into other cultures and ways of thinking that help them understand what communication studies looks like beyond the borders of this country.
Communicating Across Cultures in Dublin
Spend a month studying communication in Dublin, Ireland. Dublin is draped in history, culture, and academia. You will take two (2) courses while in Ireland: CMST 442: Organizational Communication Processes and CMST 491: Intercultural Communication.
The Organizational Communication course is designed to explore how people in for-profit and non-profit context interact internally and externally. Taken in conjunction with the Intercultural Communication course, students will build on the theory discussed and develop a practical understanding of organizations and their communication issues and methods.
The Intercultural Communication course will focus on the importance of culture in our everyday lives, and the ways in which culture influences communication processes. In today's era of rapid globalization, being able to communicate across cultures is imperative to one's ability to function in a diverse workplace, city, and world.
CCI Global Communication Scholars Semester Spain
All College of Communication and Information students can participate in this semester-long study abroad program in Valencia, Spain. The program includes one course taught by a UT faculty member and one course taught by a faculty member at the Catholic University of Valencia, followed by a credit-bearing internship tailored to each student in the program. Students will receive a total of 12 credits for the experience.
Contact CCI Programs Abroad
Communication Studies Networking Trips
Every year, the School of Communication Studies embarks on domestic trips to connect students with the broad array of professional opportunities available to them after they graduate. These trips allow them to network with alumni and potential future employers, and give them a glimpse of what work and life would be like in different organizations and settings.
Nashville, Tennessee
This day trip is an excellent chance for students to meet many alumni all at once. In the past, alumni and employers who have participated in this networking trip include representatives from Conagra, state government, the FBI, and law firms.
Chattanooga, Tennessee
Students who attend this day trip will get to visit various employers and institutions around the city, including the Tennessee Valley Authority, BlueCross BlueShield's state headquarters, and Volkswagen's Chattanooga plant.
Washington, D.C.
A unique overnight trip to the nation's Capitol takes students to private employers and introduces them to legislative careers communication studies alumni have entered. They also conduct a tour of the memorials at the National Mall and complete an assignment around how communication relates to the creation of the memorials.
Questions about networking trips or conferences? Contact us!