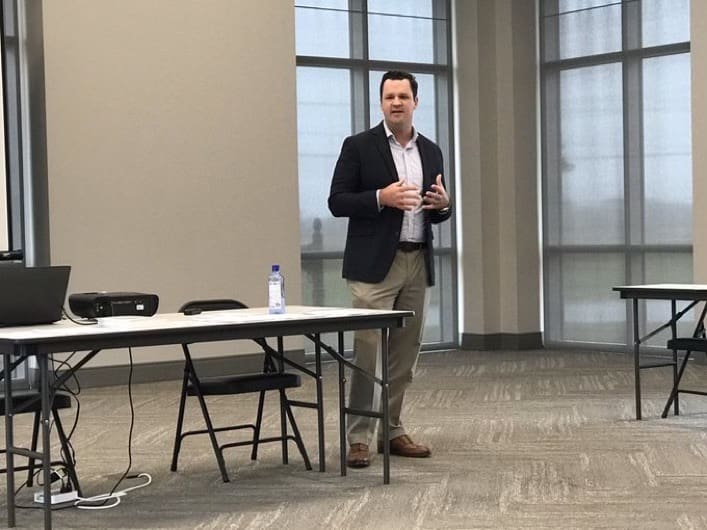 Show Our Students the Volunteer Way
Our alumni continue to make the School of Communication Studies stand out. Through their excellence in professional work, to their embodiment of the Volunteer spirit, we know we can count on our alumni to always light the way for the next generation of students.
Get Involved with the School of Communication Studies
While you may have graduated and moved on, we still want to stay in touch with you and connect you with the next generation of Communication Studies students. Please fill out the form below if you're interested in any of the many ways you can show your Volunteer spirit by engaging with the school and our students.
Host
Alumni can host a student visit to their business or organization, or even assist in coordinating a student trip to their city or region. These trips expose students to the work professionals and alumni, such as you, are doing out in the real world!
Network
We're always looking for ways to introduce students to alumni, or for alumni to network with each other. We organize various social and career development events where alumni can meet with students. Alumni can also volunteer to be professional mentors.
Give
While alumni can always donate to our enrichment fund, there are many other ways you can provide financial support for students and faculty. These include establishing endowments and scholarships or funding student trips or equipment purchases.
It's so important as an alumni to not only give back monetarily but also of your time, experience and advice. In a world where things are ever changing, having alumni involved with students prior to graduations so important for the reality of what their next chapter might look like for them."
Alexanderia Honeycutt
Owner, Honeycutt Strategies
Alumni News
Alumni Spotlight – Cassie Ray

Cassie Ray is one of two alums to complete all three degrees-B.A., M.S., and Ph.D. at the School of Communication Studies. Cassie says she is "filled with pride to say …

Read more

Curt Maggitt

Curtis Maggitt was born and raised in South Florida, West Palm Beach. In 2011 he came to Tennessee on a full scholarship to join the Volunteer football team. He decided …

Read more

Alumni Spotlight-Kylie Julius (18′)

𝐖𝐡𝐲 𝐝𝐢𝐝 𝐲𝐨𝐮 𝐜𝐡𝐨𝐨𝐬𝐞 𝐓𝐞𝐧𝐧𝐞𝐬𝐬𝐞𝐞 𝐚𝐧𝐝 𝐭𝐡𝐞 𝐂𝐂𝐈 𝐩𝐫𝐨𝐠𝐫𝐚𝐦 𝐟𝐨𝐫 𝐲𝐨𝐮𝐫 𝐦𝐚𝐬𝐭𝐞𝐫'𝐬 𝐝𝐞𝐠𝐫𝐞𝐞? "I always felt at home within the College of Communication and Information. The professors in the Communication …

Read more