The School of Communication Studies aspires to achieve excellence by becoming a global leader for innovative learning, scholarship, and societal engagement with a particular emphasis on interpersonal and organizational communication.
---
Cassie Ray is one of two alums to complete all three degrees-B.A., M.S., and Ph.D. at the School of Communication Studies. Cassie says she is "filled with pride to say I am truly (and literally) 'All Vol.'" "Each degree changed me, they shaped me to be a more competent, professional and better person in general.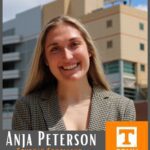 When I arrived at UT I wasn't entirely sure what I wanted to major in, let alone strive for a career in. Once I took my first communication course, I knew I was in the right place. The School of Communication Studies has afforded me the opportunity to develop both marketable and relational skills while supporting me every step of the way.
Comm Studies News