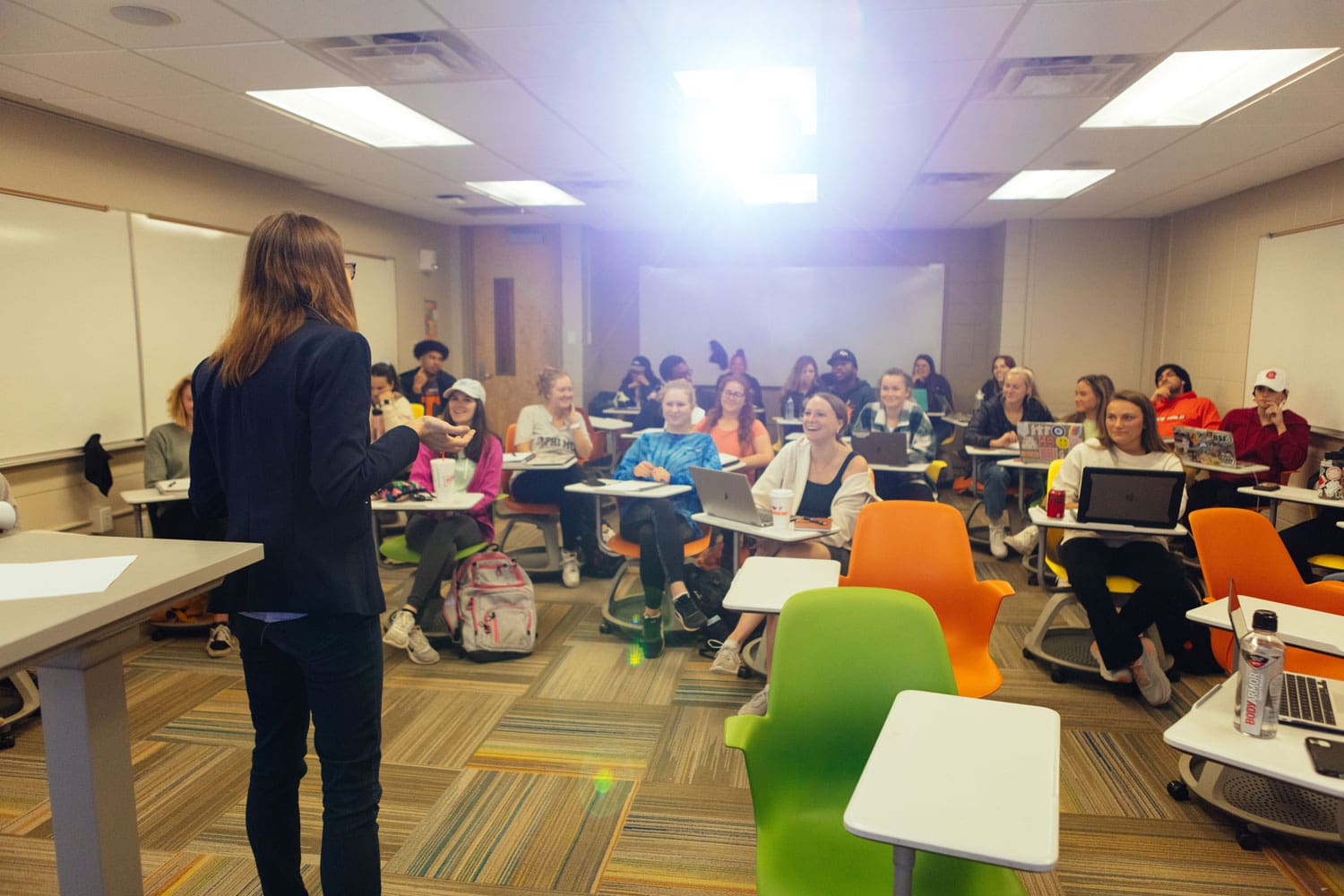 Connect with Communication
Whether it's learning to speak publicly or about how small groups communicate, the communication knowledge and skills learned at the School of Communication Studies are sure to carry you to future success. Our undergraduate programs prepares students to go into a variety of fields, including law, education, sales, management, consultants, and much more. Our graduate programs excel in ensuring alumni are fully equipped to enter academia with a well-rounded knowledge of interpersonal and organizational communication.
If you're one of the many students taking one of our two core classes, learn more about how we will support you!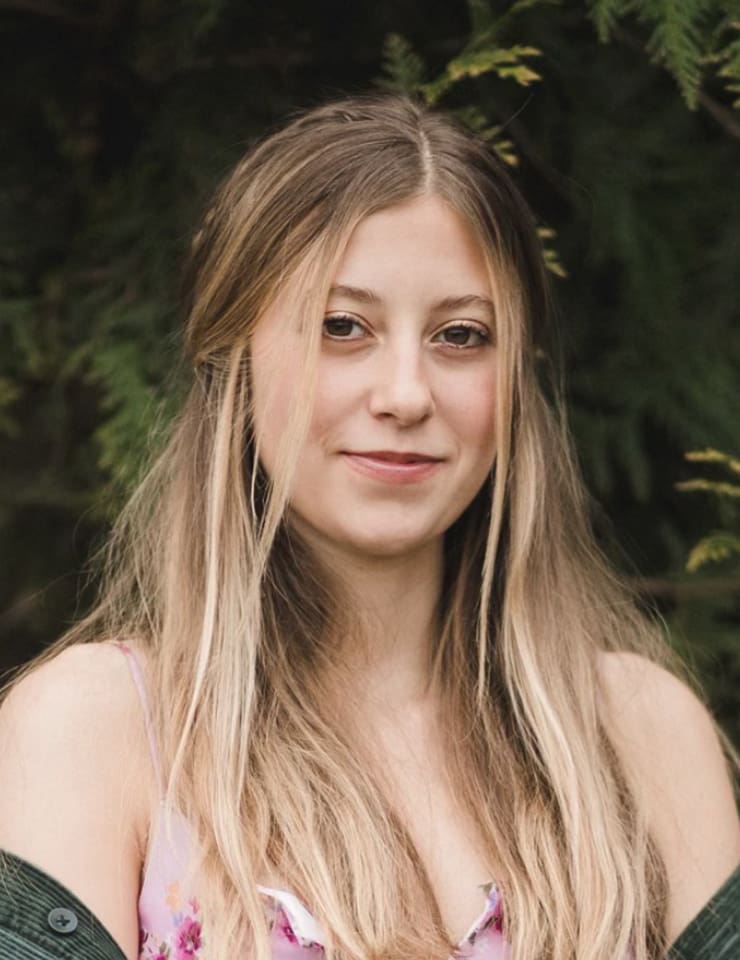 I would just tell people, if they are thinking about joining the School of Communication Studies, I would recommend it. There are so many opportunities for students to take advantage of. They are great about getting students involved in things and everyone is so helpful. I love it."
Ava Franzoy
undergraduate student at the School of Communication Studies
What is Communication Studies?
Communication Studies explores a wide range of topics related to how people communicate with each other in organizational and social settings. Everything you do that involves other people is done through communication. So, Communication Studies provides the foundations for success in the workplace and for satisfying and meaningful social lives. In the major or minor, you'll gain knowledge and skills in areas like showing leadership, productively addressing conflict, giving presentations, forming and maintaining close relationships, working effectively in groups and teams, understanding organizational processes, persuading others, and more.
Interpersonal Communication
Interpersonal communication refers to the messages that people use to build, maintain, and sometimes end relationships in social or workplace settings. It includes relationships with friends, family, romantic partners, coworkers, neighbors; and on campus, roommates, teammates, professors, and staff.
Interpersonal communication includes topics such as persuasion, conflict, social support, attraction, social media, and more.
The interpersonal communication faculty are exploring areas including how people can get along with others who are difficult to deal with, communication about health-related topics, dealing with stigma, engaging in effective dialogue, and how people's communication is connected to their family members' physical and mental well-being.
Organizational Communication
Organizational communication research examines the communication structures and processes within and among organizations.
The study of organizational communication not only asks theoretical questions about organizing but also seeks to generate working knowledge of organizational communication processes. It looks at topics including leadership, organizational culture, workplace relationships, and organizational networks.
The organizational communication faculty are exploring areas such as leadership and followership, perceptions of people who are texting during meetings, workplace bullying, and organizational communication on family farms.
Gain Skills for Any Field
Volunteer Core Classes at Our School
Many University of Tennessee, Knoxville, students are introduced to Communication Studies through two valuable courses included in the Volunteer Core requirements: CMST 210 Public Speaking and CMST 240 Business and Professional Communication.
Students and alumni who have completed these courses consistently say the courses were pivotal in giving them confidence and lifelong skills they use regularly in their careers. Speaking in front of others can be daunting, but the School of Communication Studies and the Public Speaking Center provide all students with the resources and support they need to succeed in these courses. Once you surmount any mental challenges you may have about public speaking, with our help, you are sure to walk away with a life skill to benefit your professional endeavors and beyond.
Any student who has questions or concerns about either course are encouraged to contact Distinguished Lecturer & Director of Public Speaking Megan Fields at mfields1@utk.edu.
In addition, the Tennessee Online Public Speaking (TOPS) offers students one-on-one mentorship and advice to prepare for speaking assignments and opportunities.
---
Communication Studies News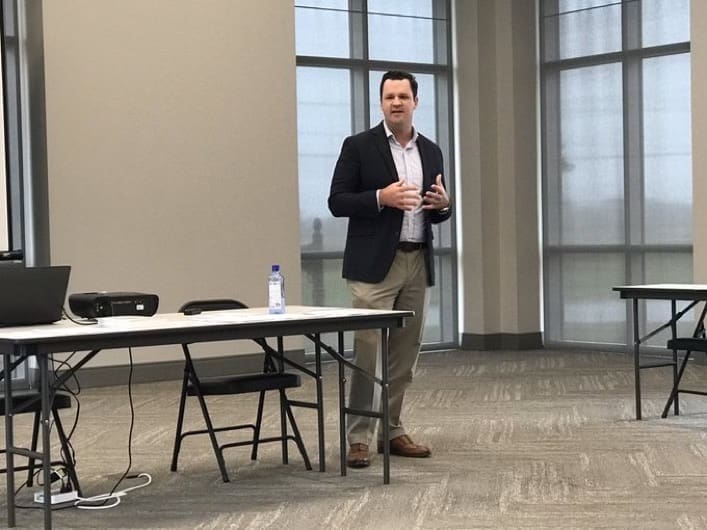 Comm Studies Alum Works To Increase Tennessee's Higher Ed Attendance
Graham Thomas ('08) found his calling 13 years ago at tnAchieves, where he now serves as chief community and government relations officer and spends his time helping more students complete their higher education pursuits.
CMST Events