Faculty Spotlight – Dr. Joan R. Rentsch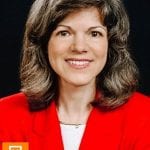 Dr. Joan R. Rentsch earned her Ph.D. and M.A. in Psychology with a specialty in Industrial/Organizational Psychology from the University of Maryland and her B.S. in Psychology from The Ohio State University. She is a Professor of Communication Studies at The University of Tennessee where she has served as Associate Dean of Academic Affairs and Professor of Management. Dr. Rentsch's expertise is in the psychological processes of organizations, teams, cognition, communication, and mindfulness.
Dr. Rentsch finds that mindfulness enhances her personal and professional life, and she sees its potential to enhance communication and teamwork. Before teaching mindfulness to college students, she felt it was crucial to be formally trained, therefore she completed the teacher certification program for Mindfulness-Based Stress Reduction (MBSR) teachers offered by the Center for Mindfulness at the University of Massachusetts. The program involved intensive training, silent retreats lasting 7 or more days, teaching supervision, and many other requirements. Dr. Rentsch also completed professional training in Mindfulness-Based Stress with Duke University Integrative Medicine. She is currently the only certified MBSR teacher in the state of Tennessee. She teaches undergraduate (CMST 400) and graduate (CMST 650) courses in mindfulness here at UT as well as offering workshops on mindfulness in the community.
We hope you will follow along with use over the next several weeks as Dr. Rentsch shares mindfulness practices for you all to try. The first practice will be posted next Monday, stay tuned!