Joe Mazer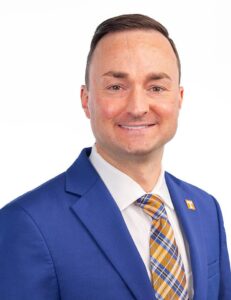 Dean & Professor
865-974-1540
Joseph Mazer is Dean of the College of Communication & Information at the University of Tennessee, Knoxville, the state's flagship land-grant Research 1 university. A first-generation college student, Dr. Mazer strongly believes in the power of higher education. As dean, he serves as the chief academic, fiscal and administrative officer for a college that includes five bachelor's degree programs, three master's programs, an interdisciplinary PhD program, an annual budget of over $15 million, and a research enterprise with more than $6 million in grant and contract awards. He guides the work of over 100 faculty and staff who serve approximately 5,000 students through major and minor programs and general education. He oversees the college's four schools and its core administrative offices in finance and administration, communications and marketing, advancement, diversity, equity, and inclusion, faculty affairs, academic programs, research, and technology support. Dr. Mazer works with the college's 35-member Board of Visitors, a group of college alumni and friends who advise the college and are passionate about making a difference in higher education.
Prior to joining the University of Tennessee, Dr. Mazer was professor and chair of the Department of Communication at Clemson University. As chair, he doubled research productivity over three years, grew teaching, research, and service capacities by adding faculty expertise in core areas, and strengthened partnerships with university and community partners. He also served as faculty fellow in the Office of the Provost where he assisted with university-wide strategic planning.
At Clemson, Dr. Mazer founded the Social Media Listening Center, a state-of-the-art research and teaching facility that monitors and measures social media conversations across the web. It was the first facility of its kind to open on a college campus and one of only a few in the world.
In addition to his academic leadership roles, Dr. Mazer is a nationally recognized communication scholar, with research interests in communication in teaching and learning and social media and new technologies. He has been recognized among the top 1 percent of the most prolific scholars in communication nationwide for the past 10 years. A recent study named him among the top five influential communication researchers in the country. He has made more than 100 research presentations in various national and international conferences in addition to over 90 peer-reviewed books, book chapters, research briefs, and journal articles. His research has been funded by the National Science Foundation and discussed in media outlets, including The New York Times, The Washington Post, USA Today, NBC Nightly News, Sports Illustrated, and ESPN.
Dr. Mazer is an active member of the National Communication Association where he has held several leadership roles. He is currently serving as Editor of Communication Education, the association's premier education-focused academic journal. He is a past member of the NCA Leadership Development Committee and Teaching and Learning Council and past Chair of the Instructional Development Division.
The quality of Dr. Mazer's work as a teacher and mentor has garnered multiple honors, including the Outstanding Professor of the Year Award given by Clemson's Department of Communication student body for excellence in teaching and dedication to student success.
Dr. Mazer's former students work nationally and globally in the communication profession as on-air talent, writers, producers, directors, technicians, sales executives, lawyers, public relations practitioners, media managers, and college professors.
Dr. Mazer received his Ph.D. from Ohio University's Scripps College of Communication, a master's degree in communication from Illinois State University, and a bachelor's degree in mass communication from Mansfield University. He is the inaugural recipient of the Outstanding Young Graduate Alumnus Award from the faculty in Illinois State University's School of Communication.
Education
PhD from Ohio University's Scripps College of Communication
Master's degree in Communication from Illinois State University
Bachelor's degree in Mass Communication from Mansfield University
Research Interests
Communication in teaching and learning contexts
Social media and new technologies
Communication in interpersonal relationships
Measurement issues and trends in communication research