Posted on 10/14/2019
NASHVILLE—get on your feet!
Last Wednesday, about thirty CMST students loaded up in a few university vans and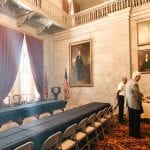 started the caravanned trek to the state capitol. This trip was a networking event organized by Alexandria Honeycutt of Honeycutt Strategies and our very own Dr. Haas, and it was paid for by our favorite VFL, Mr. Peyton Manning. Thanks to his donation, the students' trip and lunch was completely free of charge (BIG SHOUT OUT TO YOU PEYTON IF YOU'RE READING THIS). Upon arriving, we got to walk around the capitol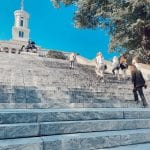 building on our own for a bit before lunch, take some much needed LinkedIn headshots…so we can finally retire our high school senior picture we've been using, and see where the state officials get to work.
Next, we had an incredible catered lunch provided for us; there was even banana pudding, I kid you not. After we ate all the pudding we could take, it was time for the networking to begin. There were UTK CMST alums from all different graduating years there to speak with us about their careers, give us advice, and even take our resumes. There were alumni who now work in the FBI, the government, sustainable agriculture start-ups, and more. We likened this to a bit of a "speed dating" style of chatting, only we were in groups and not so worried about getting turned down. We'd spend about five minutes talking with one of the alums, then Dr. Haas would tell us to switch and find a new person we'd be interested in connecting with. After the event, we got a guided, private tour of the capitol building, and then headed on back to Rocky Top.
This was such a useful and helpful experience. It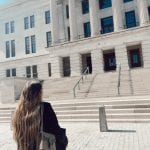 challenged us to get out of our comfort zone a little, walk up to strangers and start a conversation, and gave us a chance to break out our business professional clothes and attitudes. In a world where we're constantly reminded "it's not what you know, it's who you know," these kinds of events couldn't prove more useful to us as upcoming graduates. I know I handed out my resume to a few alumni and would love to reach out when the spring semester rolls around and the job hunt is becoming a little more rigorous. Thankfully, this trip is not the only one like this that the CMST department takes. We will be packing our bags for Washington, D.C. in the spring semester. So, if you happened to miss Nashville, don't let D.C. slip by you, (if D.C. didn't catch your attention enough, might I add that we FLY there, and stay at the Capitol Hilton, for free, another courtesy of Mr. Manning).
So, no excuses!
See you in D.C!