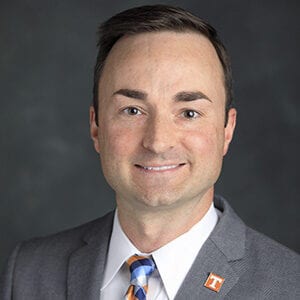 Joseph
Mazer
Dean of the College of Communication and Information, Professor
302 Communications Building
(865) 974-1540
Joseph P. Mazer is Dean of the College of Communication and Information at the University of Tennessee, Knoxville, the state's flagship land-grant Research 1 university. As dean, Dr. Mazer leads a community of strategic creative thinkers who are passionate about leading, thinking, and preparing students to understand the role of information and communication in democratic societies. He oversees the college's four schools—advertising and public relations, communication studies, information sciences, and journalism and electronic media.
Dr. Mazer has nearly 20 years of experience in higher education. Prior to joining the University of Tennessee, Dr. Mazer served as Professor and Chair of the Department of Communication at Clemson University, where he also served as a Faculty Fellow in the Office of the Provost. With a steadfast commitment to diversity and inclusion, Dr. Mazer developed in these roles extensive experience in academic strategic planning and program oversight, as well as a successful record of innovative collaboration with external stakeholders.
From 2012-2020, he served as Director of Clemson's Social Media Listening Center, a state-of-the-art interdisciplinary research and teaching facility that seeks to monitor, measure, and engage in social media conversations from across the web and provide learning, teaching, research, and partnership opportunities to students, faculty, collaborative research partners, and external clients. The facility was the first of its kind in higher education and, at the time, one of a few in the world.
Dr. Mazer's research interests include communication in teaching and learning contexts, social media and new technologies, communication in interpersonal relationships, and measurement issues and trends in communication research. He has authored or co-authored over 90 research articles, book chapters, and books and has been recognized among the top 1 percent of the most prolific scholars in communication between 2007 and 2016, and in the top 10 most influential scholars in instructional communication from 2000 to 2016. His research has been funded by the National Science Foundation and other organizations and discussed in media outlets, including USA Today, Chronicle of Higher Education, and ESPN. He joins William Seiler and Melissa Beall as a member of the authorship team for Communication: Making Connections, a top-selling introductory communication course textbook (in its 11th edition) published by Pearson.
The quality of Dr. Mazer's work as a teacher and mentor has garnered multiple honors, including the Outstanding New Teacher Award given to individuals early in their career who show distinction as teachers (Central States Communication Association); the Outstanding Professor of the Year Award given by the Clemson University Department of Communication undergraduate student body for excellence in teaching and dedication to student success (Dr. Mazer was the first recipient of this award); and a Faculty-in-Residence appointment (Clemson University) to provide leadership on faculty-student interaction outside of the classroom and increase the personalization of the residence halls.
Dr. Mazer is an active member of the National Communication Association where he has held several leadership roles. He is currently serving as Editor of Communication Education, the association's premier education-focused academic journal. He is a member of the NCA Leadership Development Committee, past member of the Teaching and Learning Council, and past Chair of the Instructional Development Division. He completed terms as Editor of the Basic Communication Course Annual and as Consulting Editor for Forums for Communication Education. Dr. Mazer serves on editorial boards for several journals in the communication discipline and completed terms as Associate Editor of the Basic Communication Course Annual and Journal of the Scholarship of Teaching and Learning.
Dr. Mazer received his Ph.D. from Ohio University's Scripps College of Communication, a master's degree in Communication from Illinois State University, and a bachelor's degree in Mass Communication from Mansfield University. He is the inaugural recipient of the Outstanding Young Graduate Alumnus Award from the faculty in Illinois State University's School of Communication.