posted on 09/23/2019
I feel like there's a lot of ideas as to what CMST Majors learn, how "easy" the major is, and what we can do with our degree. As Communication Studies majors, some of the most common questions we get when we tell someone what we're studying are, "oh, do you just learn how to talk to people?" or "oh, what can you do with that?" While typically asked without malintent, it gets frustrating when people see Communication Studies as "learning how to talk to people," while having no relevant or clear direction for our degree. In all practicality, we have one of the most useful and unique majors that the university can offer. I might get a few scoffs at that, but I'd love to be able to change peoples' ideas as to what we really do over in Circle Park. So, I'm here to debunk a few of the myths when it comes to what exactly a Communications Studies major entails, the career fields available, and the opportunities you can get involved with through the CMST department.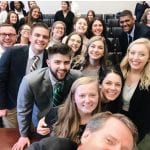 "Oh, do you just learn how to talk to people" –answer: no. People who major in Communication Studies have a passion for people. We are creative, innovative, and well rounded. While, yes, learning how to "talk to people" publicly, interpersonally, in organizations, etc., is a part of the major, that's not the extent of our curriculum. In a day and age where communication has been reduced to three-word texts, 150 character tweets, or even a "loved' iMessage, we dive deeper into understanding how and why people communicate the way they do. If you ask anyone what the most important part of a relationship is, they would most likely say, "communication". This applies to every aspect of our lives. How we communicate our thoughts, feelings, and ideas whether verbally, nonverbally, online, written, etc. is crucial to the process of making our relationships and workplaces the most effective and efficient they can be. Learning the science behind important skills like conflict resolution and interpersonal communication prepare us not only for our daily lives but equip us in the workplace.
"Oh, what can you do with that?" answer: pretty much anything. There are CMST alumni who are in all kinds of professions: law, acting, sales, public relations, marketing, management, politics, the list goes on and on. If you want to go on to a professional program such as law school or medical school, you absolutely can, all you have to do is take the prerequisites for admission into those graduate programs while taking your CMST courses. The career field options are endless with a Communication Studies degree. Because it is broad with limitless options, many CMST students feel overwhelmed and truly don't know what they want to do when they graduate, so when asked, "what can you do with that?" or "what do you want to do when you graduate?" most answer with, "I have no idea." This is what conceives the idea that Comm majors have no direction, and they can't do anything with their degree when that couldn't be further from the truth. We have the freedom to not be locked into one career path, and I couldn't think of anything more perfect. While in Ireland, a CEO of a social media company came to speak with us, and she told us how so few people are actually able to communicate either face to face or online, those who specialize in communication are being sought after by employers because it's such a critical skill to have. Hard skills can be taught on the job, but knowing how to effectively communicate, is something you have to come in with.

As for opportunities through the department the CMST department offers so many networking trips, study abroad trips, local networking events, a Communication Studies specific career fair, the Communication Studies club, an honor's society, research opportunities, internships, and more. The CMST department takes a networking trip to Nashville, coming up on October 9th as well as a trip to Washington, D.C. in the spring where students have the opportunity to meet members of congress and other good names and faces to know. Another fantastic opportunity that this department has given me the chance to do research. I currently assist Dr. Dajung Woo in her research through the department while receiving 400 course level credit for it. It has been a challenging and insightful opportunity that apart from the CMST department, I wouldn't have had. If you read my post last week, I also talked about the study abroad opportunities that the department offers. So, with all that being said, there are endless opportunities offered to CMST students through the department. The faculty truly care, want to see you succeed, and will provide opportunities for you to succeed. That is something I have found so refreshing and rewarding about the CMST department, and that has completely changed my collegiate career for the better.
Blog post by: Brooke Houser
Senior, Communication Studies
Minor, Retail Technology
Minor, French & Francophone Studies