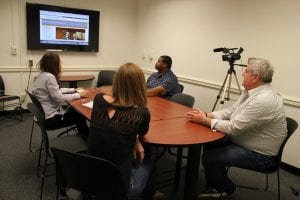 The lab facilities include three separate rooms with cameras, microphones, web and computer connections, monitors, response electronics and PowerLab software. The software allows researchers to capture data on perceptual and physiological human responses to technical data from video and audio equipment.
The total package of data and responses allows researchers to answer questions about when a message makes a difference and when it does not. Research conducted in the lab will allow researchers to evaluate the effectiveness of all kinds of messages including messages capable of influencing young teens and adults to stop taking harmful drugs, and messages designed to help people control their speech anxiety.
Those interested in learning more about the lab or schedule to work in the lab can contact Meghana Pamidi, UX Lab Manager mpamidi@utk.edu.