Posted 10/07/2019
I see it all. I see move in day. I see Saturdays in Neyland. I see class changes. I see seasons ending, leaves falling, flowers blooming. I see joy. I see sadness. Decade after decade. You'd think it would all begin to seem mundane—bored of the same sight, same coming and going. But, you see, while they change. I change, too. When they mourn, I mourn. When they celebrate, I celebrate. No day is the same. I morph and change in the likeness of a chameleon. While all completely involuntary, I typically don't mind being used.
It's been five decades since I found myself here, stagnant and stoic. The students I used to know have come and gone. They do their time and leave. They remember me though and render an occasional visit when they come in town for games or their children take a tour. I'm still here, but not quite as they remember—a little more wear and tear, a new look, a different message. As generations of students change like the seasons, they remember me. However, all for different reasons. They remember when we won the national football title, and I looked radiant—coated with life and joy. But unfortunately, they also remember when hateful speech was spread, making their fellow students feel unwelcome, unsafe. I'm here to be a symbol. A beacon of communication and of community. However, sometimes, against my will I'm forced to be something that doesn't represent who we are as a community or who we are as Volunteers. It shatters and grieves me to be used in such a way that spreads pain, hurt, and hatred.
I want to be remembered by generations of Vols past, present, and future of being a symbol of encouragement and Volunteer spirit. I apologize to the students impacted by the hateful speech I've projected at times. I also THANK the students who quickly act. Who shower me with beautiful messages of love to cover the hurtful words. Who spend countless hours to cover me with new, fresh, and inclusive messages.
I see it all: I see the hours spent, the tears shed, the pictures taken, the coming and going, and the inevitable change with time passing me by.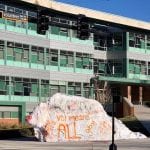 However, what isn't inevitable is the hateful speech I unwillingly endure. Communication is our most poignant and powerful tool. Our words are meant to uplift and not tear down. As a central and public communication domain, I plead, cover me with kindness and live out our namesake: Vol Means All.
Love,
The Rock