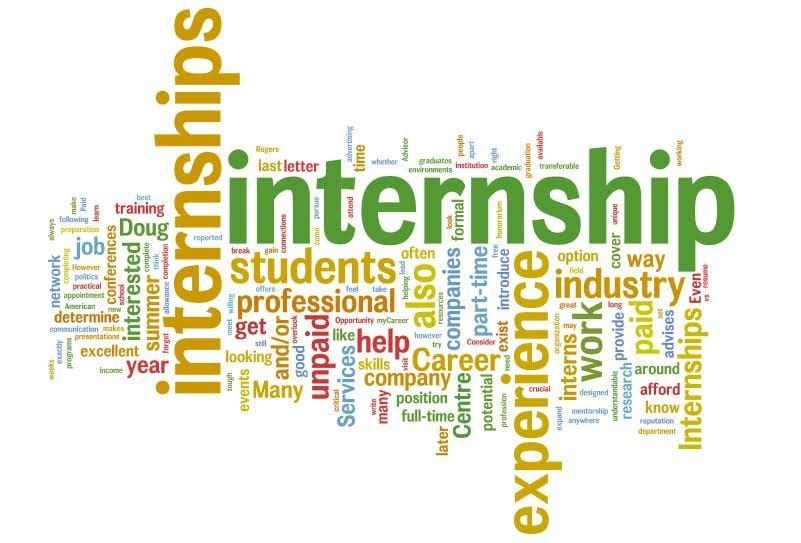 The School of Communication Studies maintains a list of available internships for undergraduate and graduate students each semester. They are by no means the only internships available, but they are quality internships available for those students looking for a position. Check the list below for more information.
---
Positions Available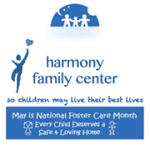 There are two positions available.
Internship Description:
Student will collaborate with other agency programs to plan social media content in addition to attending events and posting live.
Roles and Responsibilities:
The duties of this role are inclusive of, but not limited to the following:
Planning long-term social media content
Researching social media use in non-profit settings for continuous improvement purposes
Attending events to post live content
Matching content with messaging
Providing analytics
Maintain consistent branding and messaging
Skills Needed:
Excellent communication skills (written and oral)
Commitment to continuous improvement, personal growth, and helping others
Possesses creativity, the ability to work as a team, and the ability to work under pressure
Currently enrolled in a Bachelor's program in Advertising, Communications, Graphic Design, Public Relations, or a related field
Familiar with multiple social media accounts (Facebook, Twitter, Instagram, YouTube, LinkedIn) and current on social media trends
Willing to work around animals
Contact Emilee Headrick at emilee@harmonyfamilycenter.org for more information and how to apply.
Website: Click here
---

Internships are available for Sports News Editor to anyone pursuing a degree in English, Journalism, Communication, Sports Marketing or a related field. All applicants for the Sports News Editor Internship must meet the following eligibility requirements to [click on apply] apply
Yardbarker is willing to complete documentation required for interns to receive college credit from their educational institution.
---
Intern wanted to work with John Cooper for the Nashville campaign.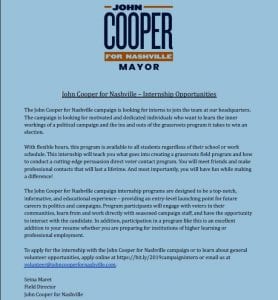 Full-Time or Part-Time interns to join the field team at the Nashville headquarters. While working, interns will be given introductory responsibilities which assist and mirror those of our field staff, including recruiting and managing volunteers, managing local campaign offices, speaking at and producing public events, and conducting direct voter contact. Students can apply by visiting https://bit.ly/2019campaignintern, or by emailing volunteer@johncooperfornashville.com to set up an interview time with the campaign.
---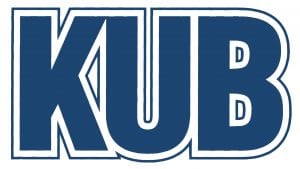 We have recently posted a position for 2 new communications students! These positions will be located downtown at our Gay Street location, right above Cruze Farms. This opportunity is really exciting as it allows the students to start working during the summer, but also acts as a part-time, year-round position as long as the individual is a full-time student. (This is not a summer internship, it is a year-round position). We require our students to work 15 – 29 hours a week depending on school schedules but are very flexible with fluctuating schedules depending on the time of year. We typically look for students around their sophomore/junior year. I have attached a job description for this position for your viewing. All students must apply at www.kub.org.
---
Are you interested in a career in sales? click this link to learn more about an opportunity for internship as a Monster Energy Field Services Representative in Chattanooga, TN.
Some of the job functions are:
-identifying target audience for products and services
-Attend regular meetings with your mentor and meet some industry professionals
-Provide training for new hires
Position requirements:
-Individual must be willing to engage in self-training
-Basic computer operating skills
-Ability to work independently
-intern must be very organized
-Must be able to lift up to 65 lbs
More information on other internship opportunities feel free to contact Leslie Poynter at lpoynter@utk.edu or go to handshake
---
Are you interested in a career in software development? Then consider the O365 paid summer internship with Five Stars Food Services in Chattanooga, TN. Interns will create Power Apps, develop new websites and pages, and manage small projects.
Qualifications include: entering your junior or senior year, with some knowledge of Microsoft Office365, SharePoint, Online and effective communication skills. It's helpful to have basic knowledge of Microsoft Office programs. The deadline to apply is May 31. Don't miss an opportunity to enhance your technical skills and an experience that will benefit you for many years to come.
For more information on this internship, follow this link. For more information on other internships, please contact Leslie Poynter at lpoynter@utk.edu.
---

Have you ever been interested in learning more about insurance careers? Then consider the full-time marketing internship with Applied Systems, Inc. in Atlanta, Georgia this summer 2019, from May to August. You will be able to work with people from around the world, targeting audiences in Canada, the U.S., the United Kingdom, and Ireland. You will be a part of the development team for marketing initiatives, with tasks including online website development, helping with the content and graphics of the marketing projects, data management, and project documentation and training material development.
Requirements include a 3.3 GPA as a junior/senior in Communications or similar field, residing in the Atlanta area, having some experience in computer science and graphic design, and having exceptional written and verbal communications.
Don't let this opportunity to gain valuable marketing experience pass you by!
For more information on this internship click on this link.
For more information on other internships, go here or contact Leslie Poynter at lpoynter@utk.edu.
---
Sherwin-Williams Brentwood, TN

This paid internship for college students offers hands-on experience in a wholesale/retail work environment and can lead to career opportunities in management and/or professional outside sales upon graduation. You will have the opportunity to learn basic store operations, gain management skills, and develop sales techniques and customer service skills, as well as increase knowledge in a variety of key business topics such as profit and loss, inventory control, and human resources. To apply, students must have a valid driver's license and currently be enrolled with the university. For more information click the link ▶ LinkedIn, don't let this valuable opportunity pass you by. For information on other internships, visit handshake (https://career.utk.edu/handshake/) or contact Leslie Poynter at lpoynter@vols.utk.edu.
---
New Acquisitions
Job description
New Acquisitions Inc. is looking for Marketing and Communications Interns for this upcoming summer semester. Our marketing firm is one of the leading in Atlanta and we specialize in working with Fortune 100 clients in the home renovation and entertainment industry. Considering our success in the Atlanta market, our clients have asked for us to expand and we are looking for qualified candidates to fill internship roles for the Summer of 2019!
 As an intern at New Acquisitions you will:
Be cross-trained in all major departments, including marketing, public relations, advertising, sales, retail development and management.
Learn how to manage accounts for our clients and their customers
Learn how to communicate effectively in a professional environment
Learn how to conduct interviews on behalf of the company
Build long-lasting relationships with professionals in marketing and advertising
All of our internships are PAID internships! All of our positions have a guaranteed hourly rate, plus weekly bonuses and incentives. Upon completion of the internship, we also offer a scholarship to deserving interns and even a possible offer for a permanent position with the company upon graduation!
For more information, click here
Our ideal candidate will match the following criteria:
Majoring in Marketing, Mass Communications, Advertising, and/or Business Administration or a similar field
Have a go-getter attitude and a desire to be the best
Be incredibly coachable and open to learning and training old and new marketing strategies
Be adaptable and ready to face and overcome challenges in their day to day
Able to work a minimum of 20 hours a week
Seniority Level
Internship
Industry
Marketing & Advertising
Public Relations & Communications
Management Consulting
Employment Type
Full-time
Job Functions
General Business
Marketing
Advertising
---

Blue Magnolia is a contemporary home and fashion boutique located in Beckley, WV. We are looking for a social media savvy intern during the summer months to help grow our online branch of women's clothing called Blue Magnolia Clothing Co.
This is an unpaid internship, however, we have a one bedroom studio apartment located behind our store available rent free.
Experience: Social Media marketing is essential.
Retail and fashion is a (huge) plus. Excellent communication skills and organization. Dependability, excellent follow-up, and friendly, fun, upbeat attitude!
The ideal intern is someone who loves women's fashion and is obsessed with social media. We are looking for someone who can get creative in promoting our brand and is thoughtful when interacting with online communities and building relationships.
Forward current resume and brief cover letter explaining why you are interested in this position to jessica@bluemagnoliahome.com
---