The senior class of 2004 started the tradition of nominating faculty in the categories below.
Departmental Award Winners
Most Outstanding Advisor
Dr. John Haas 2004,2010, 2011, 2014, 2016, 2017, 2018, 2019
Ms. Michelle Garland 2015
Dr. Laura Miller 2012
Ms. Sandy Cabbage 2009
Dr. Michelle Violanti 2006, 2008, 2013
Dr. Bob Ambler 2005, 2007
Most Outstanding Professor
Dr. Jenny Crowley & Dr. DJ Woo 2019
Dr. Emily Paskewitz 2018
Dr. Laura Miller 2013, 2015
Dr. Bob Ambler 2006, 2008, 2009
Dr. Michelle Violanti 2005, 2007
Dr. John Haas 2004, 2010, 2011, 2012, 2014, 2016, 2017
---
National and Regional Awards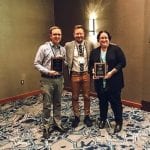 Congratulations Dr. Paskewitz on receiving The Dennis Gouran Research award.
This award recognizes the outstanding published article in group communication. The article is "Exploring Member-Leader Behaviors and Interaction in an Online Support Group" in the journal "Small Group Research". Pictured is co-author Stephenson Beck, award committee chair Andy Pilny, and the one and only Dr. Paskewitz. Way to go! We have the best ding dang faculty!
---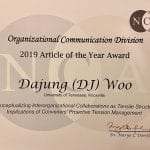 Congratulations to Dr. DaJung Woo on winning the 2019 Article of the Year Award in the area of Organizational Communication at NCA!
It was a big weekend for our faculty and we could not be more proud of them!