The National Communication Association advances Communication as the discipline that studies all forms, modes, media, and consequences of communication through humanistic, social scientific, and aesthetic inquiry.
• NCA publishes 11 academic journals that provide the latest research in the discipline and showcase diverse perspectives on a range of scholarly topics.
• NCA provides its members with a wealth of data about the Communication discipline.
• In addition to the NCA Annual Convention, NCA hosts programs and other meetings that help develop Communication scholars and advance the broader discipline.
• NCA's Career Center helps scholars meet the challenges of pursuing and securing academic positions in Communication, and is a go-to source for institutions who are posting openings and scholars who are pursuing new opportunities.
• NCA organizes programs that serve to disseminate relevant information about communication to public audiences.
• NCA helps disseminate Communication scholarship broadly through regular media outreach, and a robust social media presence.



---
SSCA-Southern States Communication Association
The purpose is to promote the study, criticism, research, teaching, and application of the artistic, humanistic, and scientific principles of communication. SSCA, a not-for-profit organization, exists for educational, scientific, and literary purposes only. If you have any questions concerning the development of this site, please contact the SSCA Executive Director.



---
International Communication Association is an academic association for scholars interested in the study, teaching, and application of all aspects of human and mediated communication. ICA began more than 50 years ago as a small association of U.S. researchers and is now a truly international association with more than 4,500 members in 80 countries. Since 2003, ICA has been officially associated with the United Nations as a non-governmental association (NGO).



---
OCMC-Organizational Communication Mini-Conference
The purpose of the OCMC is to feature and support graduate students pursuing research about organizational communication. The two-day event provides burgeoning scholars in the field with the opportunity to present their dissertations or other research projects, receive feedback, and socialize with their peers and with established faculty. The informal atmosphere of the OCMC is also well suited for students who wish to present and receive constructive criticism on early dissertation plans.



---
TCA-Tennessee Communication Association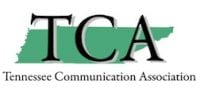 The Tennessee Communication Association is a professional organization for communication scholars, faculty, and students who seek to:
• improve communication education at all levels in Tennessee
• encourage research in communication
• foster community recognition of effective communication