Message Effects Lab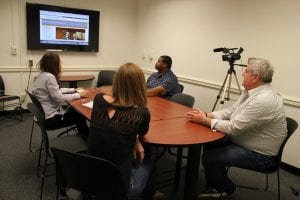 John Haas, director of the School of Communication Studies, describes the new Message Effects Lab as a "game changer" for the School and College's research program.
"The lab enables us to provide our faculty and students with one of the best communication research facilities in the country," said Haas. "It gives our faculty the ability to study communication and message effects across a wide range of situations, topics, and technologies."
The lab facilities include three separate rooms with cameras, microphones, web and computer connections, monitors, response electronics and PowerLab software. The software allows researchers to capture data on perceptual and physiological human responses to technical data from video and audio equipment.
The total package of data and responses allows researchers to answer questions about when a message makes a difference and when it does not. Research conducted in the lab will allow researchers to evaluate the effectiveness of all kinds of messages including messages capable of influencing young teens and adults to stop taking harmful drugs, and messages designed to help people control their speech anxiety.
Haas points out, "With the tools available in the Message Effects Lab, we no longer have to rely solely on self-reported data from surveys. The ability to merge information obtained from surveys with quantifiable, factual data obtained in the lab will allow us to build more effective communication messages."
Those interested in learning more about the lab or schedule to work in the lab can contact Megan Fields at mfields1@utk.edu
---
Public Speaking Center (PSC Lab)
Welcome!
As of Spring 2022, The Public Speaking Center has two locations:
COM260
Our original location is in the Communications Building next to Circle Park and Neyland Stadium. Once inside the building, the center is in room 260 on the second floor of the building.
Hodges 220G
Located in the center of Hodges Library, this satellite location offers many of the same services available in COM260 with the convenience of being walking distance from numerous other student services (and Starbucks)!
For more information go to cmst.utk.edu/tops.
Hours of Operation
Our hours vary by semester, but we aim to offer flexible availability to meet student needs. Visit the TOPS website for the most updated information on hours or contact Director of Public Speaking Megan Fields to schedule an appointment via Zoom.
Services at a glance:
Digitally recording your presentations/speeches.
Immediate presentation assessments from Communications Studies Lecturers. Constructive feedback on areas including; verbal/nonverbal delivery, transitions, pauses, and much more!
Assistance with group presentation delivery.
Evaluation and assistance with visual aids (PowerPoint, etc.).
Assistance with presentation organization, preparation, and meeting specific guidelines practicing your impromptu speaking skills.
Support in managing public speaking anxiety.
---
Frequently Asked Questions
What does the Public Speaking Center (PSC) do?
We help UTK students with public speaking/basic communication skills and assignments from the CMST 210 and 240 courses.
---
What happens in a session at the PSC?
Students will meet with lecturers to work on their public speaking skills. While focus is typically on assignments for the CMST 210 and 240 courses, we are happy to assist students in preparation for public speaking assignments and presentations for other contexts.
---
Do I have to pay for assistance?
Not at all.
---
I'm a UTK student not currently in a 210/240 course. Could I still receive assistance from the PSC?
Yes.
---
Are you like the writing center at UTK?
Yes, we are very similar in some ways! We provide help to students inside of 210 (basic public speaking) and 240 (business/professional communication) with their assignments much like the writing center does for students in English classes.
(Our library location is also next to the writing center.)
---
Can I just stop by and get help at any time?
No, the PSC is only open during scheduled hours and online by appointment.
---
How can I set an appointment?
Contact Megan Fields Director of Public Speaking
---
Who works in the PSC?
Full-time lecturers and faculty who teach the 210 & 240 classes and PhD students.
---
Will you help me get an "A" on my next assignment?
While we will help you improve your public speaking skills and help you with assignments, we will not guarantee that you can obtain any kind of grade.