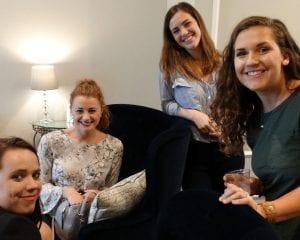 About Communication Studies Club
The Communication Studies Club is a student-driven organization designed for all Communication Studies majors and any student interested in learning about the Communication Studies field. CMST Club focuses on providing opportunities for students to further develop their communication knowledge and skills while engaging in academic, professional, and social networks.
Club Goals
• Stimulate interest in the field of communication
• Give students the opportunity to establish relationships with alumni, faculty, and students
• Help students gain exposure to various internships and job opportunities in the field of communication
• Foster a fun and casual atmosphere to enhance interpersonal communication skills
Club Activities
CMST Club meetings are designed to offer students' academic, professional, and social opportunities. Alumni and guest speakers are invited to the meetings to discuss career opportunities, offer career advice, and hold various networking workshops.
Throughout the year CMST club sponsors several events such as:
• Annual networking trip to Washington, D.C. to visit alumni working in the area
• Networking day-trip to Nashville, TN to visit alumni working at several firms and recording labels.
• Etiquette Dinners
These events give students the opportunity to expand their network, promote professional development, and help create unique friendships among the Communication Studies community. Ideas under consideration for the upcoming year include networking day-trips to meet with alumni working in Atlanta, Georgia and organizing philanthropy events to raise money for scholarships.
How To Get Involved
Any student can become a member of CMST Club. Email cmst@utk.edu with the title CMST club. CMST Club holds monthly general meetings to discuss upcoming events and opportunities to get involved in the Communication Studies field. All meetings will be held at 6:00 PM. Location: Scripps Lab on the 4th floor of the Communications Building.
CMST Club Officers:
President: Cameron Hutt  chutt@vols.utk.edu
Vice President:
Secretary/Treasurer:
PR Chair:
Comment:
"I joined the CMST Club because I felt that since this major was so versatile, I would want a little help and mentoring in deciding where I wanted my future to take me." – Derek Hurst