Communication Studies majors have multiple interests and a passion for people. They like to think critically and creatively. They like to find solutions by working with others.  Communication Studies students study effective verbal and non-verbal communications. CMST courses cover many types of communication such as public speaking, organizational, interpersonal, persuasive and specialized types such as health, conflict resolution, diversity, and inclusion. Communication Studies prepares graduates for a broad range of careers such as law, public service/politics, management, sales, public health and special events.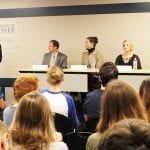 Students in Communication Studies can expect to gain:
knowledge of the theoretical processes of human communication as well as practical tools to use communication to accomplish their goals
a broad background of communication concepts and principles
the ability to understand, critique, and conduct communication research
an understanding of communication theory
practical experience applying their knowledge of communication process in the program's four course core sequence focusing either on interpersonal or organizational communication
a faculty advisor to help choose a coherent set of courses from within the requirements, including participation in faculty research projects
A Bachelor of Arts in Communication Studies will prepare you for advanced graduate study or careers in law, public service, management, sales, medicine, and education.
CMST also offers an Honors Program and minor in Communication Studies.
High School or Transfer Students wishing to apply:
Contact the College Advising Center 
---
Graduate Studies
The School of Communication Studies collaborates with the College of Communication and Information to offer a concentration in Communication Studies as part of the Master of Science and Ph.D. degrees offered through the College's graduate program.