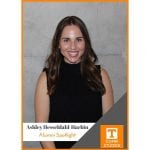 Ashley is a Tennessee native – growing up in Dandridge, a small-town east of Knoxville.
Ashley graduated from the University of Tennessee in 2012 with a Bachelor of Arts in Communication Studies. During college, she served as Communication Studies Club Secretary and Membership Chair for College Republicans.
In 2015, Ashley received her Doctor of Jurisprudence after attending Charleston School of Law and the University of Tennessee College of Law. During law school, she served as a member of the Moot Court Board, Student Bar Association, Maritime and Admiralty Law Journal, and student attorney for the UT Legal Clinic. In 2016, Ashley became a licensed attorney and was admitted to practice before the Tennessee Supreme Court and all other Tennessee state courts.
In 2016, Ashley moved to Nashville to clerk for the Tennessee General Assembly. The clerkship opened the door for many opportunities in state government and Tennessee politics. In April of 2017, Ashley joined the Tennessee Republican Party as Director of Finance. In this role she implemented and executed all aspects of fundraising efforts for the Tennessee Republican Party and coordinated events that achieved record turnout and funds raised, as well as prepared and managed a self-sustaining operational budget for Tennessee Republican Party's state-wide operations. Her work resulted in best overall gross receipts and highest growth in new or reactivated donors.
In December of 2018, Ashley joined the Office of Senate Majority Leader Jack Johnson to assist and advise on policy and research. In her current role, she formulates and coordinates policy dealing with a variety of legislative issues and constituent concerns. She is primarily responsible for providing Members of the State Senate with support, research and advice regarding the Governor's legislative agenda, as well as serving as legal counsel to the Senate Majority Leader.
 — with Ashley Hesseldahl-Harbin.