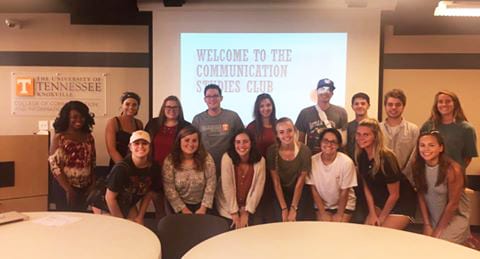 Wednesday, September 21, 2016, was the kick- off meeting for the Communication Studies club. New members of the club were invited to Scripps lab (4th floor Comm bldg.) to enjoy dinner and skype in with guest speaker Michael Abrams. Club president, Katie Mitchell mentioned two trips including a new trip to Nashville, TN to network with alumni, and the annual Washington, D.C. trip. She encouraged all club members to attend the Communications job fair on Wednesday, October 29, 2016.
The first ever, percentage night is being held at Moe's, on the strip, from 5pm to close on Tuesday, September 27, 2016, to help raise money for the CMST club scholarship funds. CMST club will also have a booth at the CCI Diversity Fair on Thursday, September 29 from 5-7 p.m.
Guest Speaker, Michael Abrams, spoke about his experiences out of college and his career with Americorps Vista in Washington State. He urges students to "Be okay with accepting defeat. Always push towards accepting something else, and be okay with hearing the word no. Keep your head up and shake as many hands as you can because networking is they way to go." Abrams wants to further his career by pursuing international education.
The next club meeting will be held on October 12 at 6 p.m. with guest speaker Hayley Howell from the Tombras Group. We look forward to hearing about her professional journey and experience as a recent CCI graduate.
Article by: Kayla Benson, Junior CMST Major